Join our Facebook Group!
We offer useful tips and advice that you can use in order to take your business to the next level! Join our Facebook Group to lean more.
JOIN NOW
We have 4 warehouses in China!
Via sea, or via air.
We make importing from China to the Philippines as easy as 1, 2, and 3!
CONTACT US
Our China Warehouses
GuangzhouMANILA
SHISHIMANILA
YIWUMANILA
FUJIANMANILA
Hassle-Free Importing from China to the Philippines! We will take care of all customs taxes and fees. No hidden charges.
GET A QUOTATION
Why Should You Choose Our Service
REAL-TIME TRACKING OF SHIPMENTS
Only in CargoBoss Philippines can you track your shipments from China to Manila real-time. Reduce the amount of stress and worry since we will be giving you regular updates on the status of your shipments via E-mail.
TRACK SHIPMENT STATUS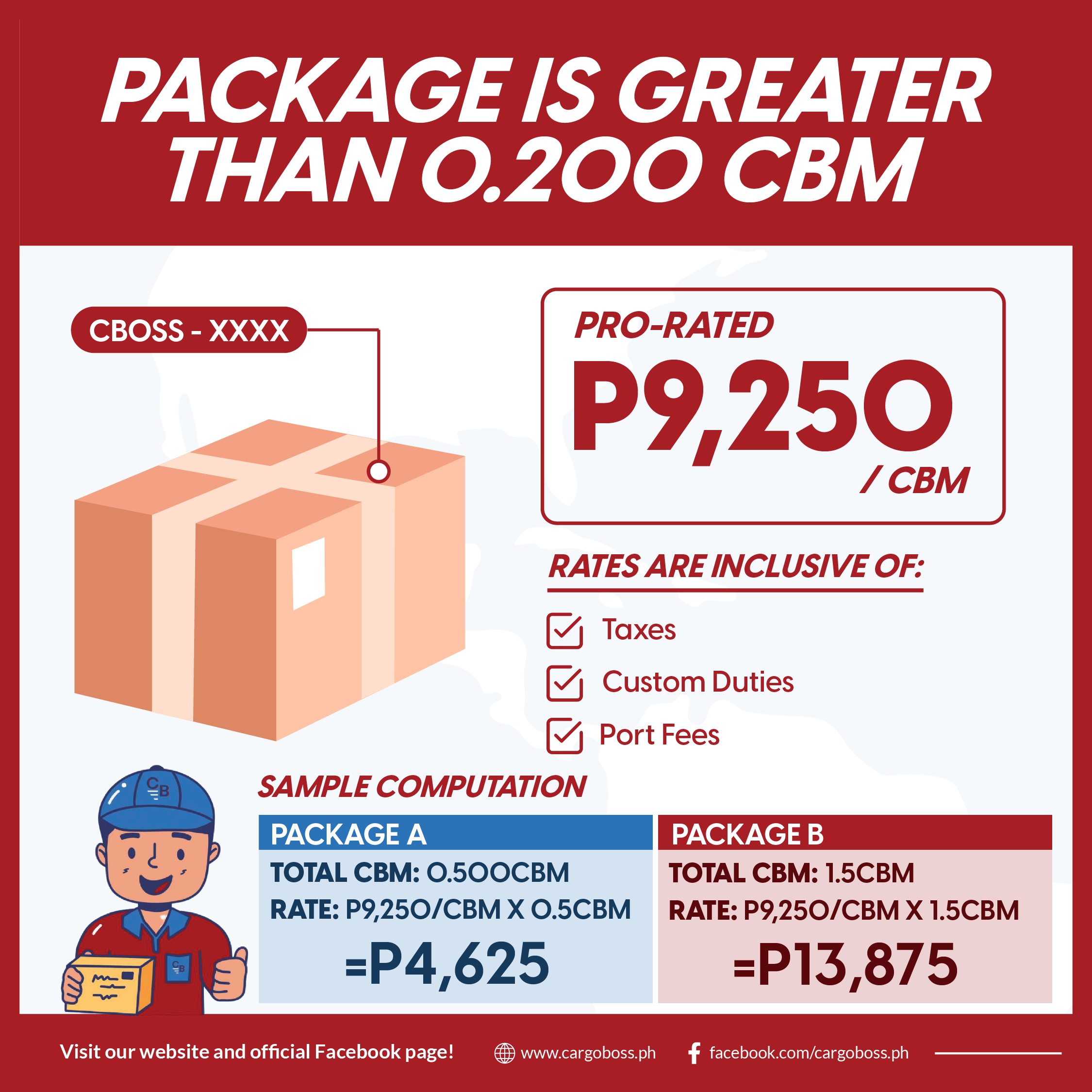 VERY COMPETITIVE RATES
Our company offers very competitive rates for forwarding shipments from China to the Philippines. All rates are already inclusive of customs taxes and duties, warehouse storage fees, and documentation fees.
VIEW OUR RATES
BEGINNER FRIENDLY
We try to make importing products from China as hassle-free as possible. We understand how scary it is to import products if it is your first time. Don't worry, we are here to guide you with the step-by-step process.
CONTACT US
GET DISCOUNTED RATES WHEN YOUR SHIPMENT IS 3 CBM AND ABOVE. FREE DOOR-TO-DOOR DELIVERY (WITHIN 35KM AWAY FROM MALABON WAREHOUSE)
LEARN MORE
For inquiries, you may reach us through our Facebook Chat Support!
Facebook Chat Support Hours
Monday-Saturday: 8am-10pm
Sunday: 5pm-10pm
INQUIRE NOW
Subscribe to our Newsletter
Promotions, new products and sales. Directly to your inbox.